Vancouver Island Golf Newsletter
Golf Vancouver Island is committed to exceeding our guests expectations, from custom golf packages to the entire golf vacation experience. Vancouver Island Emerald Club Members receive periodic E-Newsletters (approx 8 annually) featuring exclusive golf package offers, instruction tips, and "après golf" activity ideas on Vancouver Island.
Exclusive offers have included:
unlimited golf
free power carts, hotel upgrades, rental car upgrades
a complimentary round of golf
preferred golf package pricing
Sign up to receive our E-newsletter & Be Automatically Entered to Win Golf for Four to the Cowichan Golf & Country Club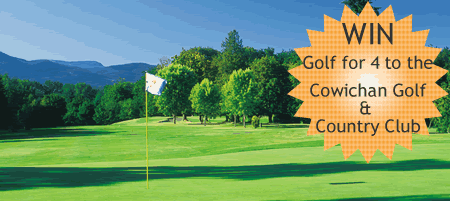 Golf Vancouver Island will draw our next lucky winner on September 30, 2015 and provide the lucky winner with a foursome of golf to use this year.