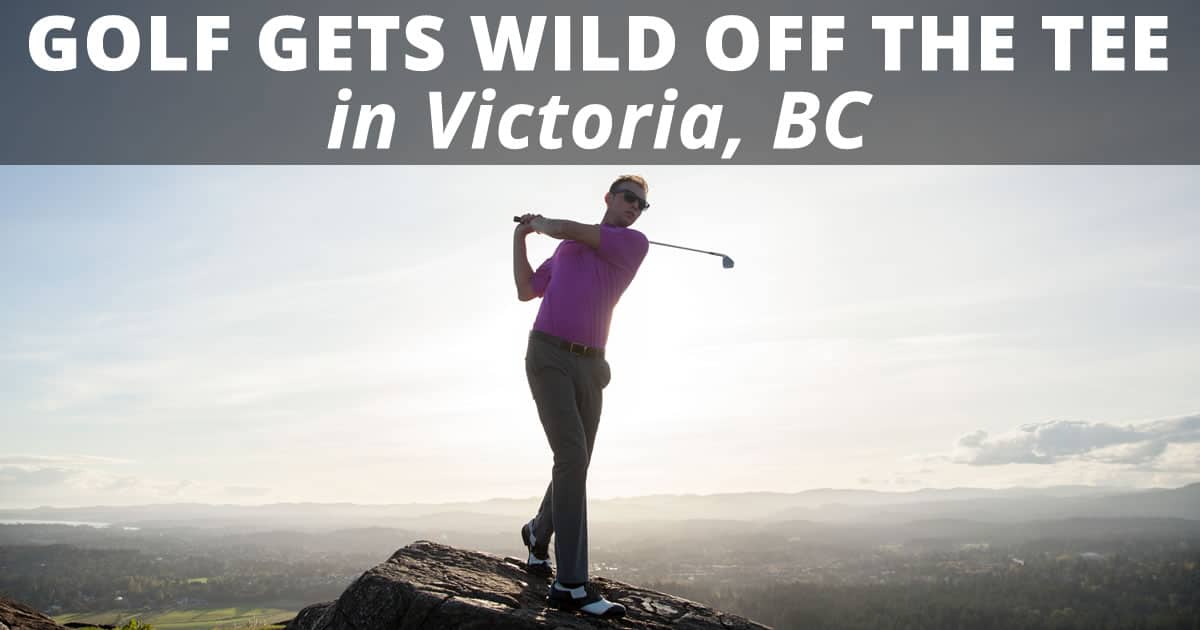 Getting wild off the tee sounds bad. And ordinarily it is. Wild drives that lead off-fairway into dark holes of rough and despair are generally to be avoided at all costs. But here on Vancouver Island, getting wild off the tee is actively encouraged. Of course, we've given it a whole different meaning, so tame that swing and prepare to expend any energy saved for some of these fantastically wild-off-the-tee activities in and around Victoria.
Subdue Wild Salmon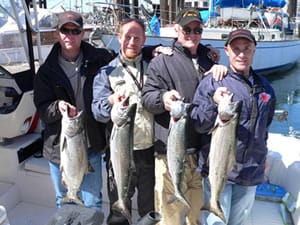 Prime salmon fishing season is upon us. Summer brings an abundance of salmon in British Columbia waters, which means fantastic fishing opportunities. Don't worry – we're not about to deprive you of your golf by sending you out to sea for days on end. The fishing here is so good that you can spend a morning on the ocean, rod in hand, an afternoon on the course, club in hand, and still come away with a couple of big ones to show for it! (And by big ones we mean fish, not bogeys-plus!) And you don't even have to venture too far out of Victoria either. Check out our Fins & Skins packages for great fishing / golfing wins right in Victoria. Or plan your own fins and skins getaway by pairing a round of golf at any of the incredible golf courses within 20 minutes of downtown (The Mountain Course and Valley Course at Bear Mountain, Arbutus Ridge, Highland Pacific and Olympic View all beckon) with a Victoria-based Adam's Fishing Charters trip into fishing hot spots. (Top tip: local legend Adam knows where to fish for guaranteed success.)
Wonder at Whales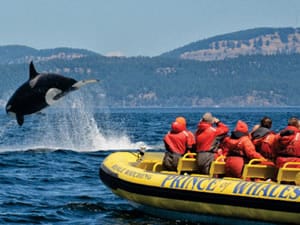 For the ultimate in thrills (with the exception of that elusive hole-in-one naturally), why not pair your next round of golf at one of Victoria's courses with a 3-hour whale watching experience? With the largest whale watching and eco-adventure company in British Columbia, Prince of Whales, you can bet your last golf ball you'll come away in awe and wonder – and that's before you've even hit your first golf ball off some of the most scenic tees in the business on the Vancouver Island Golf Trail! Golf and whale-watching: a truly unique BC experience, and Vancouver Island specialty.
Wrestle with Bears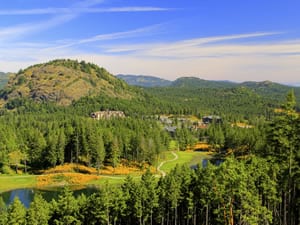 Full disclosure: We cannot recall an actual Bear ever being spotted on the Vancouver Island Golf Trail (well, not that it's ever been reported to us), so if you are lucky enough to see a Bear of the furry, four-legged variety, be sure to keep your distance but please do take lots of pics to send our way! There is however another Bear that needs to be wrestled on Vancouver Island, and one that will take all of your prowess and finesse! We are, of course, referring to Bear Mountain – 36 holes of Jack Nicklaus-designed golf guaranteed to put a smile (and perhaps the odd grimace) on the grumpiest bear's golfer's face. Whether you tackle Bear Mountain's Mountain or Valley Course, prepare to feed the beast with your best possible golf game.
Bond Over Brews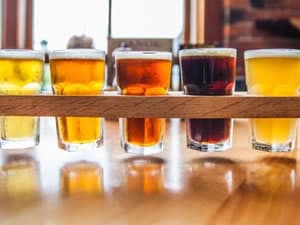 As most golfers agree, there's very little that beats a cold one after a hot round. And in Victoria you are spoiled for choice. Beer in Victoria is steeped in history, going back to the early 1840's. More importantly, the city's craft brew scene is steeped in excellent atmosphere and full-on flavour. With several micro-breweries, including Vancouver Island's first craft brewery, all within walking distance around the city's harbours and downtown core, the Victoria Ale Trail offers an authentic taste of the local scene. So why not let your hair down and get a little wild (just a little mind you) on some of the local brews after your next round in the region. Cheers to that.
And that, folks, is what getting wild off the tee should look like. See you on the wild side!