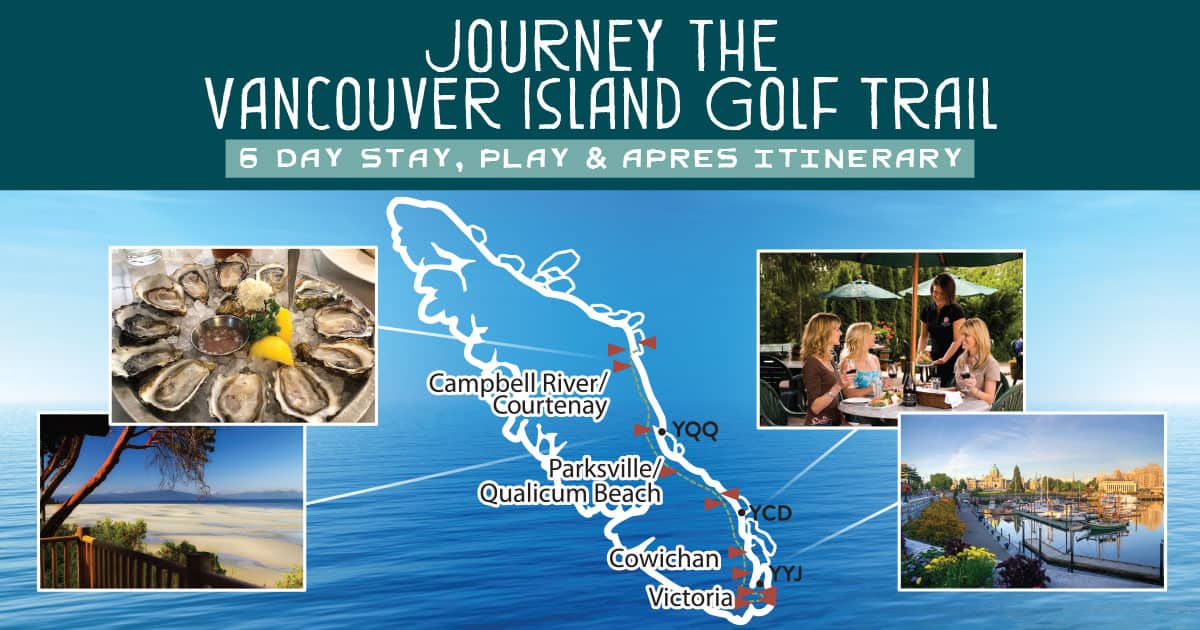 Hate to rush when it comes to a golf vacation? Does a weekend golf getaway to Vancouver Island never feel like enough? Then we invite you to play the Vancouver Island Golf Trail, to delve deep with a 6-day golf vacation that lets you really explore the Island and play some of the top golf courses in British Columbia. Discover the benefits of "playing on island time" – that magical realm where you can rest, relax, see the sights, and rejuvenate.
Full of features, suggestions, and insider tips, this golf vacation itinerary will help you plan a memorable week-long golf holiday including much of the splendor of The Vancouver Island Golf Trail.
Day One: Comox & Crown Isle
Fly into Comox Valley Airport (YQQ), with direct flight options available from Vancouver, Calgary, and Edmonton and their connection networks. Grab your bags and rental car; Crown Isle Golf Resort is just 15 minutes away. After you check into your luxury villa (with fairway and mountain views and optional hot tubs), grab your clubs and go tee it up at this Graham Cooke designed gem! What a great way to start your golf vacation, and it's just getting started. (Close enough to drive to Crown Isle? No problem, jump on the Horseshoe-Bay to Departure Bay Ferry, and drive an hour North, or join us from your Island home).
Day Two: Spirits & Storey Creek
Wake up refreshed and be ready for another fabulous day on the Vancouver Island Golf Trail. Drive 30 minutes north on Highway 19A (a beautiful oceanside drive, so take your time) you'll reach Storey Creek Golf Club in Campbell River – one of the Island's best kept secrets and Les Furber's best! Keep your eyes peeled for local wildlife, including bald eagles and deer that frequent the course.
After your round of golf – we recommend retracing your steps along Highway 19A and stopping in at the Shelter Point Distillery, a small-batch, artisanal distillery that uses locally-sourced ingredients and their very own spring water. Once you've sampled their wares, you and your designated driver can head back to Crown Isle for a relaxing evening.
Day Three: Seafood, Spa, & Tigh-na-mara
On your third day of this week-long golf vacation, you'll be heading an hour south to the oceanside area of Parksville and Qualicum Beach. We highly recommend a stop at Fanny Bay Oysters en route, as they offer scrumptious fresh oysters, straight from the ocean to your cooler. You can thank us later.
Next up is Pheasant Glen Golf Resort, another of our Island's best kept secrets offering an incredible golf experience impressive views of Mount Arrowsmith. When you've wrapped up your round, be sure to order their Halibut Fish & Chips as they are quite simply to die for, and best paired with an Island ale! Golf crave, thirst and hunger quenched, head south to the luxurious Tigh-Na-Mara Seaside Spa Resort and check in to your choice of oceanside room or spa villa. When oceanside, we say, stay oceanside in Tigh-na-Mara's newly renovated rooms! By now, you might be feeling the effects of three straight days of golf, so we recommend the ultimate relaxation with a visit to the Grotto Spa Mineral Pool, or booking a massage at this #1 Spa in Western Canada to help relax sore muscles.
Day Four: Beaches, Markets, & Fairwinds
Can you believe the week is already half over? Luckily, today's itinerary can help you recoup. Don't forget you're "playing on island time" – so take your time! Grab a coffee and head out for a walk on Parksville's world-famous beach. Enjoy the feel of sand between your toes as you take in the sights. Feel free to bring your suit – the water's warm, and a quick dip is a perfect way to prepare for a fun day ahead.
Next up is the funky Coombs Old Country Market. The sod roof features goats (yes, goats on the roof), while inside you'll find fresh baked goods, a selection of wares from around the world, delicatessen, restaurant, and delicious ice cream. After stocking up on snacks and memories, you're off to golf at Fairwinds Golf Club in the afternoon. Make sure to take the time to enjoy the expansive views of the Strait of Georgia and coastal mountains. Head back to Tigh-Na-Mara for dinner and a nightcap, what a great day!
Day Five: Revs & Refreshment
Your fifth day of travel will take you south to the British Columbia capital of Victoria. At about the halfway point you'll reach your first stop: either Cowichan Golf Club or Arbutus Ridge Golf Club. After an invigorating morning of golf, replenish and refresh by visiting a local winery, such as Cherry Point Winery or The Merridale Cidery & Distillery. You're right in the middle of Vancouver Island's wine country, so why not enjoy the fruits of their labour?
If imbibing is not your cup of tea, then a second option is visiting Vancouver Island Motorsport Circuit. Satisfy your need for speed with a Circuit Experience or hop in the driver's seat with a full day Taste of the Circuit. When you're done, head take your pick of one of Victoria's famous inner harbour hotels, or stay at The Westin Bear Mountain Resort for quick access to your next day's activities.
Day Six: Whales & Ales
It's golfer's choice today, so choose wisely! Select from four amazing courses: Bear Mountain's Mountain or Valley Course, Olympic View Golf Club, or Highland Pacific Golf Course. For the die hard golfers, today is the day to turn 36 if you're so inclined to add that to your brag list, or stay true to playing on island time, and… in the afternoon, consider exploring the Victoria Ale Trail, featuring breweries, pubs, and tours. Alternatively, you can head out on an excursion with the Prince of Whales whale-watching tours or try for today's catch with Adams Fishing. Hungry yet? Luckily, Victoria offers more restaurants per capita than any other city in Canada.
Return to your accommodations having savoured much of Vancouver Island golf trail. Get a good night's rest since it's time to go home!
Day Seven: Plan for Next Time
It's now time to head home, and say goodbye (for now) to "playing on island time" – where you take it slow and stop to see the sights. Of course, there are many more things to see and do (and courses to play), so make a list now of what you're going to do next time!
If you would like to plan your own Vancouver Island Golf Trail Adventure, view some of the sample packages or call our Golf Travel Experts at 1-888-465-3239. Our Vancouver Island golf trail experts are ready, willing and able to give you a hand as well, either by phone, email or chat, and look forward to teeing up your island time!