National Car & Truck Rental
Providing service in:
» Victoria » Nanaimo » Courtenay » Comox » Duncan » Port Hardy » Campbell River » North Vancouver
With offices all over Vancouver Island, including Victoria and Comox airports National Car & Truck Rental is the perfect choice for your rental car needs on Vancouver Island. Through Golf Vancouver Island, all of National's rentals come with unlimited mileage and special rates for one-way travel on Vancouver Island. You can fly into Victoria, travel North along the Vancouver Island Golf Trail and fly out from Comox. No return drive. No hassle. No extra charge!   It is the ultimate in freedom, service and convenience.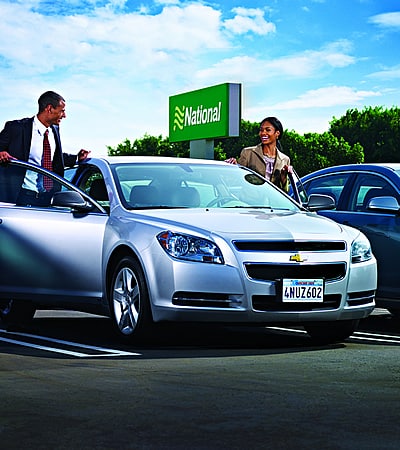 If you have a group be sure to ask us about the special rates available on National's fleet of Vans and Sport Utility Vehicles. If you are looking to travel the Island in style ask about renting a Convertible or one of the incomparable Subaru Foresters.
All National rentals include discounts on golf, Mt. Washington lift tickets & scenic chair rides, as well as 2 for 1 passenger fares on BC Ferries selected Gulf Islands routes and Vancouver-Naniamo (Tsawwassen-Duke Point).  Visit DriveNational.ca for more details.
No matter what your tastes, National Car Rental has the fleet and expertise to meet your transportation needs.
» Vans: Dodge Caravan, Ford Freestar, Pontiac Montana
» Convertible: Ford Mustang
» SUV: Dodge Durango, Nissan X-trail, Hyundai Tuscon
» Full Size: Toyota Camry, Honda Accord, Hyundai Sonata
» Mid Size: Hyundai Elantra, Toyota Corolla, Pontiac G6
Golf Vancouver Island is pleased to make rental car reservations with National Cart & Truck Rental on your behalf.  It's what we do.  Current vehicle selections are available at DriveNational.ca.