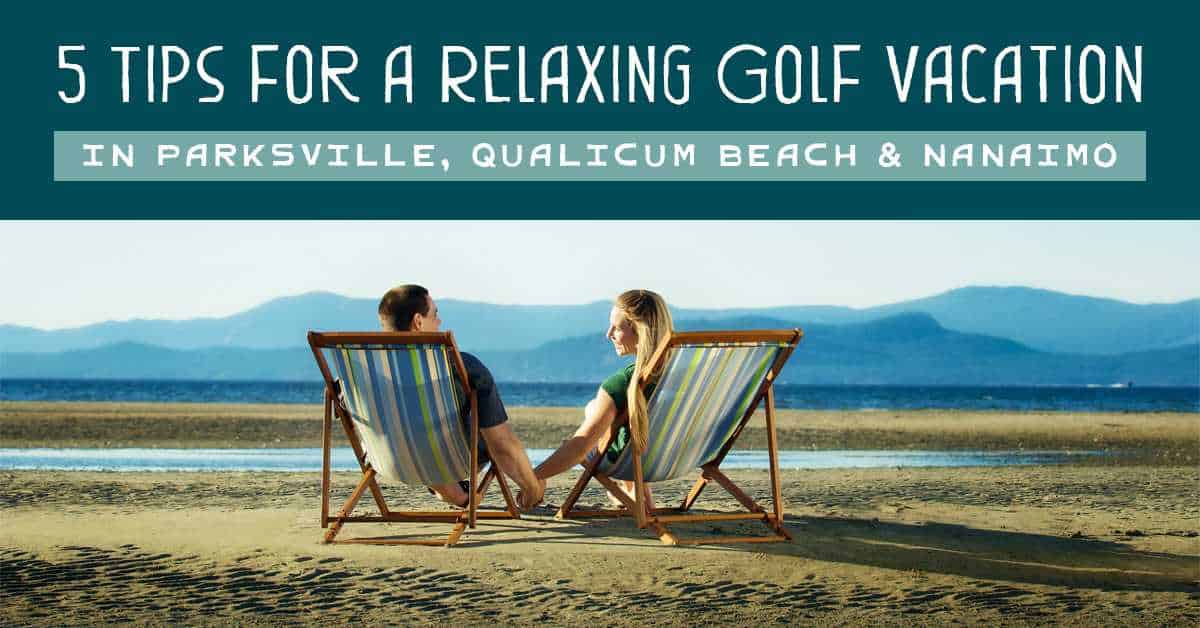 Planning a golf vacation to Vancouver Island and looking for some insider tips and hot spots for a terrific golf getaway? The Nanaimo and Parksville-Qualicum Beach area offers the perfect location to escape to "island time" and truly relax on your next golf vacation.
A golf vacation should be easy, relaxing, and stress-free. To help with the process, we've assembled 5 tips to ensure you have a great golf trip.
Tip #1: Tee Up Great Golf
You may not have considered it in the past, but Parksville-Qualicum and Nanaimo offer incredible golf opportunities – with lush greens, stately tree-lined fairways, and ocean views that will leave you breathless.
Start your escape at the A.V. Macan designed Nanaimo Golf Club. This semi-private golf course, first opened in 1912, is situated in the heart of Nanaimo overlooking Departure Bay and delivers beautiful year-round ocean views. You'll want to make sure to enjoy a tasty post-round meal on the expansive patio before heading to your next destination course.
Just 15 minutes north of Nanaimo is Fairwinds Golf Club, located in the beautiful pocket community of Nanoose Bay. This Les Furber designed course offers a challenge to all levels of golfer, as well as extraordinary views and the chance to see a variety of wildlife – including families of deer and their resident swan!
The northernmost course on this Nanaimo-Parksville golf vacation is Pheasant Glen Golf Course in Qualicum Beach and is devoted to golf in a natural setting. Enjoy this par 72, 6,928-yard championship course that's secluded from the hustle and bustle of everyday life.
Once you get some golf in, it's time to relax!
Tip #2: Hit the Beach
You can't visit Parksville & Qualicum Beach without hitting the beach, and we're not referring to the time spent in the bunkers! Fortunately, great beaches are not hard to come by here. Visit the 39-acre Parksville Community Park for a relaxing stroll before you set up shop on the amazing, pristine sand beach to watch the turn of the tides as well as sandcastle builders, skim boarders, and swimmers.
Nearby Rathtrevor Beach Provincial Park offers up to 5 kilometres of beachfront, oceanfront trails, and luxury resorts to stay at. Be sure to time your visit for low tide – you can walk out nearly a kilometre before you find the ocean! If you're interested in stretching your legs, try the 10 km circle route that links the beach with two nearby parks.
The ocean isn't the only place where you'll find great beaches, there are many terrific lakes and rivers nearby that offer cool, crystal clear waters and beautiful beaches. Not far from Qualicum Beach, you can spend time on the shores of Horne Lake, Spider Lake, and Englishman River Falls, among others.
Tip #3: Indulge in Yourself
For the pinnacle of a relaxing golf vacation, make an appointment at Tigh-Na-Mara's Grotto Spa – there's nothing like it! The 20,000 square foot spa features a stone grotto mineral pool with underwater music and a two-story waterfall, as well as numerous spa treatments on offer.
Consider a massage for aching muscles, or just to relieve any tension you brought with you!
Tip #4: Plan a Day Trip
Between rounds of golf, take in a few excursions and get to know the Nanaimo & Parksville-Qualicum Beach area better. Coombs, B.C. (just west of Parksville) makes for a terrific side trip and offers the opportunity to visit a bedroom community complete with specialty shops, local artwork, and the famous Old Country Market, where goats live on the roof!
If getting back to nature is more your style, then spend some time amongst 50 acres of old growth forest in Heritage Forest in Qualicum Beach. Explore the forest with coastal Douglas Fir, Western Red Cedar, Hemlock, Grand Fir & Sitka Spruce towering above and rare and endangered plants below, as well as wildlife including deer, birds, and salmon in the streams. Located just five minutes from downtown, it's an easy way to embrace Mother Nature on your golf vacation.
Tip #5: Taste the Island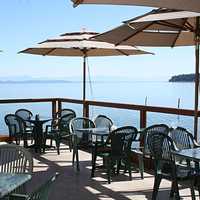 After golfing, relaxing, and exploring, you might just be hungry! Delicious food certainly is not in short supply here, so you'll want to plan ahead to hit a few of the best locations. In Parksville, Bistro 694 is considered one of the best, or relax oceanside at The Shady Rest Waterfront and enjoy the casual pub atmosphere.
For a different dining experience, try The Final Approach, situated alongside Qualicum Beach's regional airport. Settle in on their patio for terrific food while you watch the planes come and go. Or, go out in style on your golf vacation by trying Butlers at The Mansion – with entrees including pan-seared scallops, halibut with toasted bulgar wheat, and sea asparagus and clams, all prepared by a Gordon Ramsey-trained chef. Yum!
Are you ready for a relaxing golf vacation? Look no further than Vancouver Island – we have some terrific Nanaimo-Parksville golf packages that will make your summer golf trips a success!