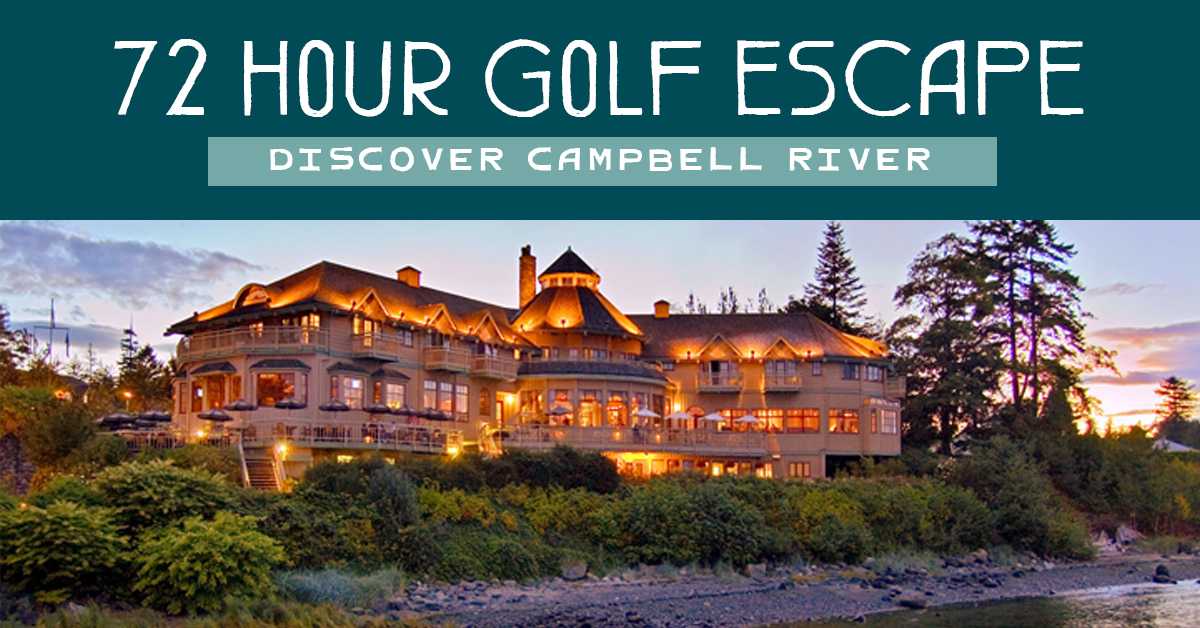 There's nothing like a 72-hour golf getaway help you escape to island time and leave your worries behind. Luckily, Campbell River is a great option as a golf destination. Get all the tips on courses to play and places to stay, along with hidden gem restaurants and activities, and then get ready to book your 72-hour golf escape!
Day One: Arrive & Set Island Time
The first day of your 72-hour golf getaway starts with a flight into Campbell River Airport (YBL) from Vancouver or Comox Valley Airport (YQQ), which services major hubs including Vancouver, Calgary, and Edmonton with quick connections to Toronto and points beyond. Pick up a car from National Car Rental and head North along Highway 19A for a laid-back ocean drive.
If you're coming from the Lower Mainland of British Columbia, simply hop aboard a BC Ferry to Nanaimo and take Highway 19 north up the coastline. Campbell River is about an hour and a half from the Departure Bay terminal.
Once you arrive in Campbell River, your first stop on an island getaway should be seafood! Satisfy your culinary cravings by stopping at Crabby Bob's Seafood Inc. The name might be funny, but they are dead serious about their seafood, with a restaurant right in the marina and ingredients come fresh off the boat.
Make your way to Painter's Lodge to check into your oceanside room, or take the time to explore Campbell River's incredible forests and trails with a hike or bike through the nearby Snowden Demonstration Forest, or go for a walk along Elk Falls Suspension Bridge for dramatic views, nail-biting heights, and tumbling waterfalls.
For dinner, Legends Dining Room at Painter's Lodge offers fresh seafood dishes and local produce, as well as phenomenal views of Discovery Passage, so you can settle in and take in the scenery while you let your cares melt away.
Day Two: Fins & Skins
Campbell River, dubbed the Salmon Fishing Capital of the World, is home to some of the best salmon fishing anywhere! So, as they say, when in Rome…one must be sure to add some "fins" to your "skins". Fortunately, Painter's Lodge is a legendary fishing lodge where guests can stroll from their room to a guided fishing charter in mere moments. Golf groups can even arrange to barbecue their catch of the day, and subtract your weigh in from your golf score for the ultimate bragging rights competition.
If fishing isn't your choice of morning activity, head out on a wildlife, bear-watching, or whale-watching adventure tour (depending on the season).
Energized, it's time to tee it up for 9 holes at Quadra Island Golf Club. Right from Painter's Lodge you can take a convenient water taxi across the Discovery Passage to their sister resort April Point on Quadra Island, where your free shuttle to the golf course awaits. Gotta love designated drivers by car & by boat! Enjoy the tranquility as you take in views of the BC coastal mountains amid lush forests, however one must keep their focus as this 3,219-yard course tree lined course will take some game!
Return to April Point Resort on Quadra Island and dine oceanside on fresh oysters, prosciutto-wrapped halibut, or seared tuna on their massive wraparound deck, while you watch an amazing sunset and cruise ships journey by on their way to and from Alaska. When you're ready, return to Painter's Lodge via water taxi for a nightcap and bed.
Day Three: Birdies & Brews
Now that you are settling into playing on island time, it's time for a full 18 holes of golf at Storey Creek Golf Club, so start with a good breakfast. Ideal Cafe is rated Campbell River's #1 breakfast location, and you'll soon see why. Try their smoked salmon eggs benedict, it seems the reviews speak for themselves!
At Storey Creek, the stunning Les Furber designed course is set amongst an old growth forest where you'll have the opportunity to see wildlife including deer, and if you're lucky a glimpse of a bear. Take in the surroundings while you tackle this 6,699-yard course and find out why Storey Creek is recognized as one of the top undiscovered golf courses in British Columbia.
After your game, take time to explore some of Campbell River's culinary options such as Campbell River's first craft brewery, Beach Fire Brewing & Nosh House, where you'll find locally-crafted beer, appys, and mains. Follow your meal up with a walk down to Discovery Fishing Pier where you are welcome to try your luck fishing off the dock in the world's salmon fishing capital!
Day Four: New Golf Course & Home
It's your final day and we've saved the newest for last – the Campbell River Golf & Country Club. All hail, first golf course to open in British Columbia since 2011! The course (formerly Sequoia Springs) has been completely redesigned from the soil up by golf course architect Graham Cooke and will open summer 2018. Campbell River Golf & Country Club promises a unique experience including a licensed practice facility with Toptracer technology for some additional golfing fun, as well as après-golf dining in The Sandtrap Restaurant & Lounge.
Get your last taste of the island on your way home with a stop at Shelter Point Distillery. Sample handcrafted spirits made from locally-grown ingredients, and don't forget to take some home as a memento of your island golf getaway to Campbell River.
Campbell River: 72-hours, 3 rounds of golf, 1 fishing or wildlife viewing excursion, 1 spectacular oceanfront resort, and as much seafood and local libations as you can handle. Now that's playing on island time.
If you need assistance in organizing your own golf vacation to Campbell River, or any of the other amazing destinations on the Vancouver Island Golf Trail, our Golf Vacation Specialists would be happy to help.