Golf Man-cation to Vancouver Island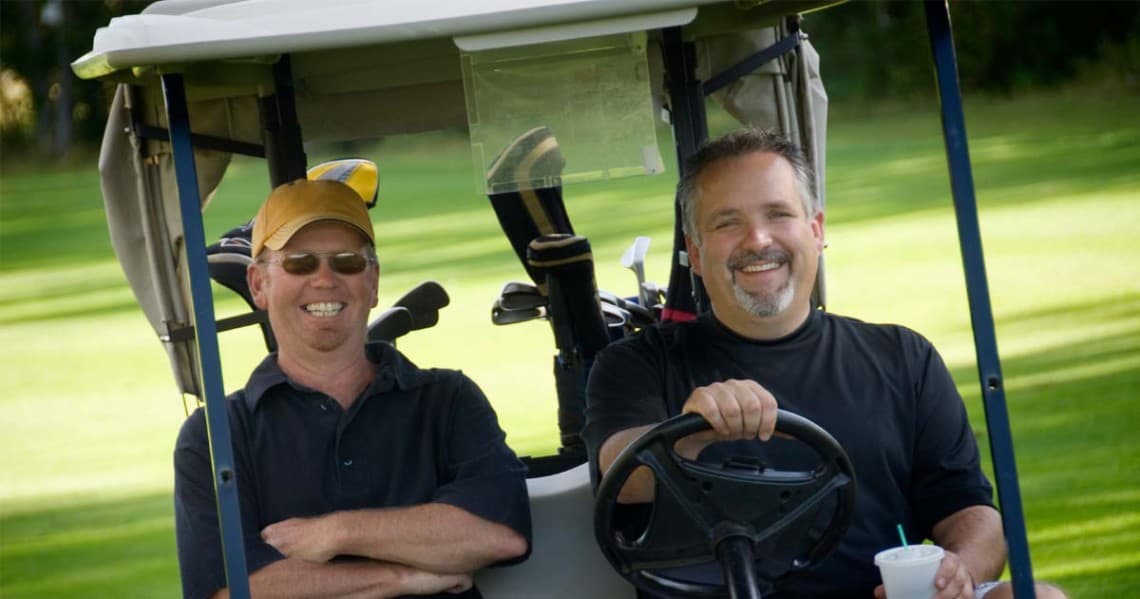 By Andrew Penner
If you've ever seen the gang movie "The Warriors" – it's a B cult classic! – then there's a pretty good chance the line "Waaaariorrrrs, come out to play-ay!" still reverberates within you from time to time. I love that movie. And it was perfect post-round cinematic fare for the boys. You see, after four inspiring rounds of golf in two days on Vancouver Island, there wasn't a whole lot of fight left in us. It was after midnight, the card game was over, and the only thing left to do was throw on a movie, suck back one last pop, and get horizontal. Yes indeed, just like "The Warriors," we definitely came out…and we definitely played.
This, after all, was mid-March, the prairies were still frozen hockey-puck solid, and the courses on Vancouver Island were lush, green, and gorgeous. For flatlanders with snow blindness and cabin fever, gazing upon green grass and flagsticks blowing in the pacific breeze made for a highly religious experience. In fact, just getting off the airplane in Victoria and seeing real, actual plant life was enough to make us feel like we were crossing into Gloryland.
So, understandably, given our golf addictions and severe withdrawal symptoms (prior to departure we practiced putting down the moving walkway), our "script" looked something like this: Day 1: Golf brains out. Day 2: Golf brains out. Day 3: Golf brains out then make mad dash to airport. Oh sure, drinking (beer), eating (chicken wings), and a smattering of other (mostly) juvenile activities were also worked into the festivities.
Now, don't get me wrong, the trip didn't entirely play out like a scene from Animal House but, rest assured, it was far from Driving Miss Daisy. The Westin Bear Mountain Resort, for example, is not really a place where "Bluto," aka John Belushi – or any of the bat-wielding chumps from The Warriors – would really be at home. This is, unquestionably, one of the finest, most luxurious golf resorts in Canada. And we respectfully enjoyed it to the fullest.
With two Jack and Steve Nicklaus-designed courses – the Mountain and the Valley – Bear Mountain is definitely golf heaven for round-bellied prairie boys with serious cravings. However, there's much more than golf here. World-class restaurants, the luxurious Santé Spa, plenty of meeting space: indeed, all makes and models can thoroughly enjoy this haven.
The drive into the property is a major "wow" experience. And, no surprise, the original Mountain Course, too, is laced with stunning golf holes. The par-5 starter, for example, which careens down the hill and concludes with a wild green protected by a creek, is an early engagement with the spectacular. And from there, it just gets better.
The roller-coaster back nine reaches its climax at the one-of-a-kind gambling hole, surely one of the most amazing golf holes Jack's ever envisioned. An "interlude" between the 14th and 15th, the gambling hole, surprise surprise, provided our motley crew with a few theatrics. After all of us missed the tiny cliffside green in dramatic fashion, our balls ending up on the far side of Never-Never Land, one of the boys (mesmerized with the incredible view of Victoria?), took his eyes off the road and nearly pulled a "Thelma and Louise" off the cartpath. Thankfully, no damage was done and "Thelma," as he was called for the rest of the trip, was not allowed behind the wheel anymore.
After a brief tour of the nearly completed Valley Course (it will fully open in April), we moseyed over to nearby Olympic View for a second round. Complete with waterfalls and wicked views of the Olympic Mountains, Olympic View is a pastoral treat that winds through some of the most enticing terrain in the Greater Victoria area. The up and down layout is full of unique golf holes that tease and please.
Not surprisingly, given the amount of testosterone in the group, we all decided to try and attempt the massive tee shot Tiger Woods hit on the 18th hole when he played Olympic View as an amateur in 1994. Word has it he cleared the rock outcropping, some 300 yards away. Thelma was up first and hit a hard-hooking missile that pin-balled in the pine trees just 50 yards off the box. Mike, whose favourite character is Ricky Bobby of Talladega Nights (and, yes, he bellows "shake and bake!" before every tee shot), reeled back like he was possessed and cold topped it two feet. Both me and my buddy Mark, a dead-ringer for Steve Buscemi (God help him), busted our tee shots and were still a half-wedge shy of Tiger's mark.
The next day our crusade took us over the Malahat into the Cowichan Valley where a couple of fine courses awaited our assault. First up: Arbutus Ridge. For whatever reason, (there's no way in the world it was the all-night poker game or the single malts) we all played like rank beginners at Arbutus Ridge. But, interestingly, we probably enjoyed it the most, laughing throughout at our complete ineptness.
Arbutus Ridge, while not overly long, is peppered with fun, option-laced golf holes, including an island green at the par-3 17th. And, with plenty of side bets on the go and some spirited banter, the day played out like a scene from Goodfellas, minus the gunplay and needless torture. In the end Ricky Bobby took the cash and stole the show with some "shake and bake" for the ages. With nerves of steel he holed out for birdie from well off the green on the excellent par-4 closer.
The second round at nearby Duncan Meadows was also reminiscent of a famous Hollywood movie: Dawn of the Dead. Indeed, the collective lack of sleep took a bit of a toll on the boys as nobody sniffed a par until the lovely fourth, a classic par-4 that swoops down the hill and requires a deft approach to a green guarded by towering trees and a ball-hungry creek. Actually, after this crowd pleaser (sadly, it featured more shake and bake) the gang found their second wind and thoroughly enjoyed the super-scenic and much underrated track.
In a blatant act of sleepless stupidity, we handed Ricky Bobby the keys to the car and gave him directions to the fabulous Crown Isle Resort in Courtney/Comox. But lo and behold, the shake and bake was applied just right and we made it safely. And that was good, because Crown Isle is one of the best on the island.
After the inspiring movie night (sorry to spoil the suspense, but the Warriors beat the hell out of everyone) and a world-class sleep in a luxurious course-side room, the game at Crown Isle was the pinnacle achievement for us all. Besides a memorable, sun-soaked round on the outstanding 7,024-yard Graham Cooke design, birdies were poured in like they were going out of style. At one point, Ricky Bobby was so excited he seriously considered taking off his clothes and running around in his underwear.
Our final round, at the idyllic Storey Creek Golf Club near Campbell River, was also one for the ages. Here tranquil, tree-lined holes curl through the forest and provide golfers with a sublime "natural" golf experience. We loved every second.
Given the fact we soon had to fly back to our frozen home, Storey Creek was difficult to leave. It's such a pretty place. We all agreed, the perfect "script" would involve missing our Comox-to-Calgary flight so we could do it all again. And, with Mr. Talladega Nights behind the wheel, we knew it was a distinct possibility.
To book your Golf Man-cation to Vancouver Island, contact the specialists at Golf Vancouver Island at 1-888-465-3239.  They are your one-stop shop for golf tee times, accommodation, meeting space, transportation and even après golf activities!
Andrew Penner is a freelance writer based in Calgary, Alberta.
The marketing rights to the following publication-ready story, "Golf Man-cation to Vancouver Island", by golf travel writer Andrew Penner, have been purchased by Golf Vancouver Island.  You are welcome to publish the piece free of charge and images to accompany the article are available by contacting our Marketing Coordinator at the email address below. If you do print the story we would appreciate receiving a copy of the published piece. Golf Vancouver Island wholly owns the rights to "Golf Man-cation to Vancouver Island.
Please contact Trisha Larsen for any additional queries on the article or Vancouver Island information at:
Trisha Larsen
Marketing Coordinator
GOLF VANCOUVER ISLAND
marketing@golfvancouverisland.ca