Trail Markers Added to Vancouver Island Golf Trail
VICTORIA, B.C. January 26, 2010
TRAIL MARKERS ADDED TO VANCOUVER ISLAND GOLF TRAIL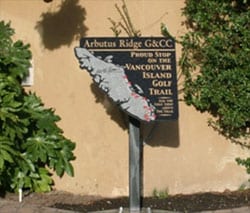 Vancouver Island boasts a 250 km golf trail of Pacific paradise from Victoria to Campbell River and while touting the Vancouver Island Golf Trail for over ten years, Golf Vancouver Island is upping its brand investment with a new signage program.
Twelve trail marker signs, one at each of the participating golf courses, now adorn the Vancouver Island Golf Trail. The black granite signs feature a map profile of Vancouver Island, with the 250 km Golf Trail on the East coast and 12 colored flags marking each of the participating golf courses, and the host location denoted in a gold highlighted flag and masthead. Rack cards describing the Vancouver Island Golf Trail will be in every golf shop by the end of February in preparation for the prime 2010 golf season. Golf Vancouver Island's investment in the golf course signage program is phase one of a three tiered strategy to continue building the Vancouver Island Golf Trail brand, the second will see signage at partner accommodation and transportation facilities, and the third the hopeful erection of highway signage.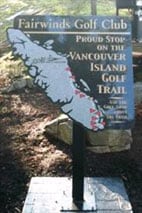 "We are building on our established Vancouver Island Golf Trail brand", comments Golf Vancouver Island's President Jason Lowe, "with this further investment designed to increase awareness of the Vancouver Island Golf Trail and plentiful golf opportunities available to both destination and local Vancouver Island golfers. For example, a couple travels from Calgary on a Victoria Golf Package, and through the signage/racking program, learns of the Cowichan Valley, Parksville/Qualicum Beach and Courtenay/Campbell River golf package alternatives for a potential extended stay or return visit. We are hoping to cultivate the same word of mouth/viral conversations with our Vancouver Island residents for inter-region travel, ie. Campbell River residents playing golf in the Cowichan Valley and vice versa. "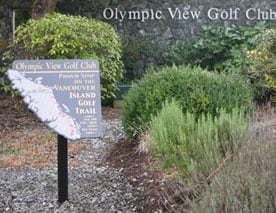 The Vancouver Island Golf Trail is hailed by GOLF Magazine as 'One of the continent's best values', and Golf Vancouver Island is the one-stop-shop for buyer direct golf vacations and getaway packages. The Vancouver Island Golf Trail is best experienced with a six-night, six-round golf extravaganza from $649, including two nights in the golfer's choice of three cities including Victoria, Cowichan Bay, Parksville, Courtenay, or Campbell River, and six rounds of golf from a selection of twelve golf courses. Two or three day getaway package options are also plentiful on the Vancouver Island Golf Trail including Victoria, Cowichan Valley, Parksville & Qualicum Beach or Courtenay and Campbell River. Owned and operated by the golf courses on Vancouver Island, consumers save time and money booking with Golf Vancouver Island – from airfares and ferry reservations to tee times, accommodations and even après golf activities, they take care of it all.
For more information on the Vancouver Island Golf Trail, please visit www.golfvancouverisland.ca or call 1-888-465-3239.
Media Contact:
Trisha Larsen
Director of Marketing
Golf Vancouver Island
Phone: 778-478-7790
Email: marketing@golfvancouverisland.ca