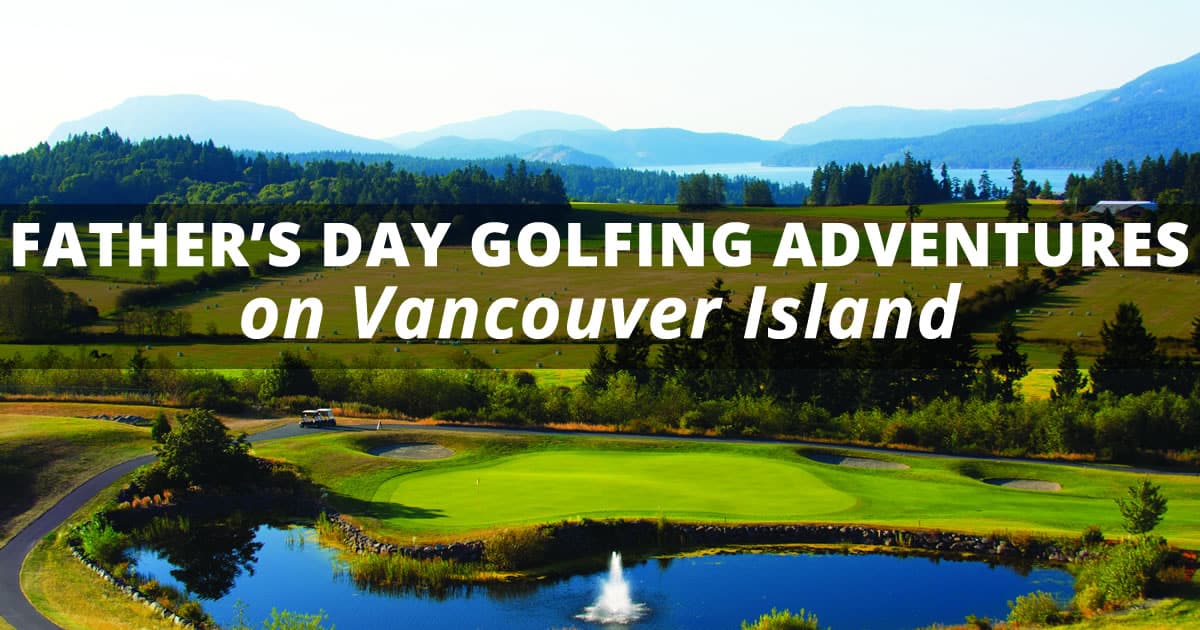 Father's Day is fast approaching. (Ahem – it's June 19th, for those of you who need reminding; you know who you are!) Fortunately, for those of us whose dads play golf, gift ideas are stress-free and plentiful. The saying "Thanks for making it so easy to get you a Father's Day gift due to your psychotic love of golf" isn't a Father's Day card favourite for nothing!
This is even truer on the Vancouver Island Golf Trail. Here, Father's Day golfing gifts and experiences are so vast and varied, even dads who aren't complete golf-psychos are covered. Tee up one of these unique Vancouver Island experiences to try out with Dad this Father's Day for the best Father's Day gift by par. Erm, far.
Disclaimer: We hold no responsibility for setting the bar so high that next year becomes a problem.
Gone Fishin'
You know what's better than spending an afternoon on the golf course with your old man? A morning spent on the water with your old man and a couple of rods, followed by an afternoon spent on the golf course with your old man and a set of sticks.
June is the beginning of peak season for sport fishing in the waters off Vancouver Island. There is an abundance of salmon while halibut of up to 600 lbs have been caught in the local waters during the summer season. Which means Father's Day is the perfect time to book one of our Fins and Skins Packages including both golf and fishing! Whether you start your day in Victoria's inner harbour or further north in Campbell River, we've got a package built for some serious Father's Day-gift bragging rights.
Even if the big ones and the birdies get away from you, this is a Father's Day adventure your dad will speak of for years to come.
Brew Romance
Golf and beer have long been the ultimate twosome (much like you and Dad). A cold brew in hand after a great (or not-so-great) round? Probably one of the best feelings in the game. Other than that incredible birdie, of course. Or eagle. Or hole-in-one. Or that 300-yard drive you nailed. We digress – but you see where we're going with this. Now imagine pairing your round with an entire Ale Trail… That's one Father's Day gift experience we – and no doubt your dad – can really get behind.
Spend your morning playing any one of the courses five courses within a half-hour drive from Victoria, then spend your afternoon discovering Victoria's Ale Trail.
Victoria is home to several micro-breweries – all within walking distance around the city's harbours and downtown core. From Vancouver Island's very first craft brewery, the multiple award winning Vancouver Island Brewery on Government Street, to smaller brewpubs like Canoe Brewpub & Restaurant, Spinnakers Gastro Brewpub or Buckerfield's Brewery at Swans, both you and Dad are sure to find at least one brew you can both agree on – even if you can't agree on each others' scorecards.
Into the Wild
Not everyone is into fishing. Some even find it – gasp – boring. If your dad is one of these why not get a little wild off the tee with him?
Pair your round of golf with a side of whale watching. Is your Dad even more adventurous? Victoria boasts some of the world's best scuba diving, just blocks from downtown. True story. Tee it up in the morning and hit the fairways, then suit up in the afternoon and hit the seafloor.
Or just hit the beach after your round for a spot of sun and sand. Vancouver Island boasts some of the best bunkers – erm, beaches – anywhere.
High Tech Hitting
Don't have time to get away from it all to spend some quality time with your old man? No worries – we've got your Father's Day gift covered too with some fancy new golf gadgets guaranteed to improve his game and ensure he forgets you had to bail on playing golf with him on Father's Day!
Zepp 2 Golf Sensor Give Dad the gift of a better swing. (Top tip: Just don't tell him it's because his swing sucks.) This small yellow clip attaches to the golf club and measures everything from speed of rotation to the angle of backswing. The accompanying app allows Dad to compare his swing to that of a professional! It will also diagnose areas he can improve, with a range of pro golfers providing personalised feedback based on the results.
Self-V Fairway Headcover Also on the swing side of things, the Self-V Fairway Headcover allows Dad to videotape his swing on the golf course, when there is no-one around to do it for him (ahem – like his son or daughter on Father's Day). This handy-dandy product from Swing Snap Golf has a phone placeholder in its headcover: all Dad has to do is set his golf bag at the angle he wants to tape his swing, press play on his phone's camera and he's all set.
BioMech Putting App So your dad swings like a king but his putts? Well, that's another story! Here's something that will have him holing birdies no problem. Developed by the team at BioMech Sports, this app features a sensor that clips to the shaft of any putter to measure an array of elements in the putting stroke, including face angle, swing path and acceleration. The app then analyzes any flaws in real time and can be programmed to instantly alert the golfer with lights or a tone when you make a wrong move, like decelerating.
PowaKaddy 2015 FW3 Your dad may still play golf better than you, but he's not getting any younger and, unlike the pros, he doesn't have a caddy on hand to carry his clubs around for him. This electric caddy can be set to trundle up to 45 yards all by itself while he plays his shot.
Finally, if all else fails, just remember that nothing beats a few hours spent bonding on the golf course with Dad. And with the Vancouver Island Golf Trail right on your doorstep – with 12 phenomenal courses to choose from – we'd say you and your dad are pretty much all set for a great golfing Father's Day!
Happy Father's Day to all the golfing Dads, Dads of golfers and golf-mad Dads out there. We hope at the very least you get a round of golf in on the day – whether as an adventure with your kids or as an escape from them!