BC Ferries
British Columbia Ferry Services Inc., or BC Ferries, is known for showcasing British Columbia's spectacular scenery and proud maritime history. Started in 1960 with two vessels and two terminals, the operation has grown into one of the largest, most sophisticated ferry transportation systems in the world. BC Ferries' 36 vessels make up to 47 ports of call to the diverse communities on the British Columbia coastline.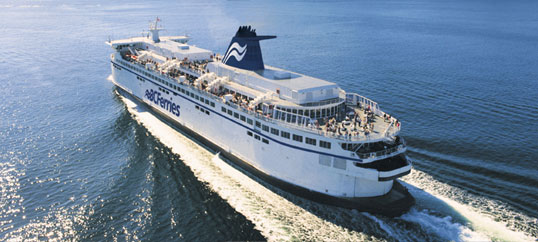 The crossings between Vancouver Island an BC's Lower Mainland are 80 minutes to two hours, depending on which route you take. There are three to choose from with frequent sailings every day of the year:
Vancouver – Victoria (Tsawwassen – Swartz Bay)
Vancouver – Nanaimo (Tsawwassen – Duke Point)
West Vancouver – Nanaimo (Horseshoe Bay – Departure Bay) 
Powell River to Comox
Your crossing to Vancouver Island will be as relaxing as it is beautiful. You can dine in the cafeteria or indulge in the Pacific Buffet, shop in our well stocked Passages Gift Shop, relax in the Seawest Lounge or simply take in the spectacular beauty from the outdoor decks as you sail to your golf vacation.  With three new ferries in our fleet each serving one of the routes between Vancouver and Vancouver Island your travel experience will be spectacular.
For More information on BC Ferries please visit:
Route and Sailing Schedules
BCFerries.com