WestJet
Westjet provides flights to & from locations in:
» Comox » Victoria » Vancouver » Kamloops » Kelowna » Prince George
» Calgary » Edmonton » Fort McMurray » Grande Prairie
» Regina » Saskatoon » Winnipeg
» Hamilton »Sudbury » Thunder Bay » Ottawa
Canada's highest rated airline for customer service, Westjet has attained phenomenal success by following a very straightforward formula: Excellent Service, Low fares, Friendly Staff. In 2000 they served over two million customers and received only five complaints! Can you imagine taking two million golf shots and only being unhappy with five of them? What more could anybody want from an airline?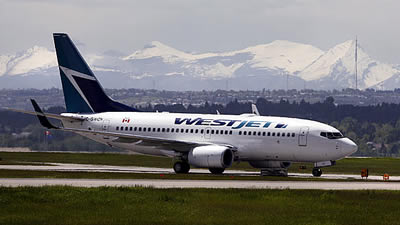 Westjet offers regularly scheduled flights to both Comox on the north end of the Vancouver Island Golf Trail and to Victoria on the south end of the Trail. You can build a golfing getaway around either one of these charming towns or discover all that Vancouver Island has to offer by flying into one city, golfing your way down the spectacular Vancouver Island Golf Trail and flying out from the other. No need to return to the same airport, or face a long-drive on your final day on the Island!
Here at Golf Vancouver Island when we are booking your golf vacation we will be happy to book your flights for you and send your confirmed itinerary. This year come discover everything that our Pacific Paradise has to offer! Golf the courses of the Vancouver Island Golf Trail with Westjet and Golf Vancouver Island.
For More information on Westjet please visit WestJet.com