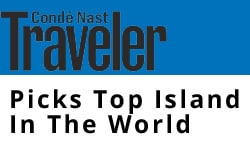 Top 25 Islands In the World
In one of the most comprehensive public traveler opinion polls, the Conde Nast Traveler Readers' Choice Awards have recognized Vancouver Island as one of the top 25 Islands in the world. After compiling over 79,000 survey participants and over 1.3million votes, the Readers' Choice Awards recognize the "Best of the Best" of travel destinations, hotels, cities, islands, cruise lines and more.
Home to one of Canada's best golf trails, The Vancouver Island Golf Trail, reader comments about Vancouver Island ranged from "captivating" and "so much to see and do" to "lovely scenery and lots of wineries to visit" and we couldn't agree more. The top scores from the survey were recognized for Scenery, Friendliness and Atmosphere. This isn't the first time Vancouver Island has been recognized in the Readers' Choice Awards, with multiple placings in previous years.
Victoria Ranks 3rd in Top 5 Cities In Canada
As part of the same survey, Victoria – the popular southern end of the Vancouver Island Golf Trail, was ranked as one of the top 5 cities in Canada, along with Vancouver and Quebec City in 2nd and 1st respectively.
This "beautiful harbor town with great food" was recognized for it's wide variety of activities and great dining with many commenting that Victoria is a "hidden treasure."
For those looking for something not listed in many guides, the Victoria Ale Trail is something that every connoisseur of fine micro-brew beers should make sure they check out.