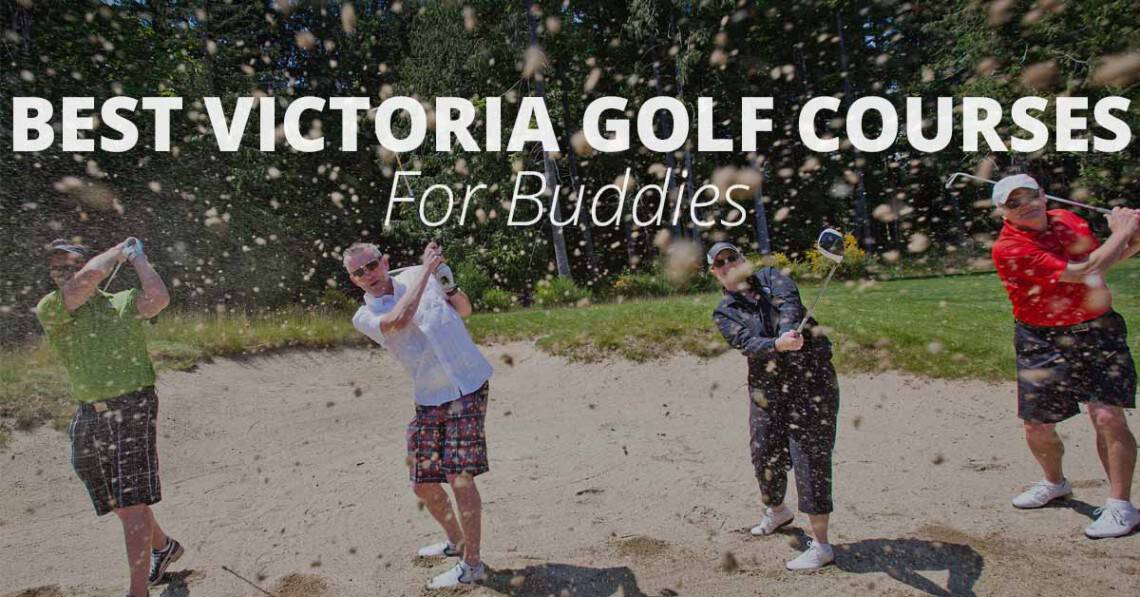 Sick of your golfing buddies heckling you on every round that you didn't pick the best golf courses? Let us help plan your next golf trip by choosing the best golf courses in Victoria for buddies' outings. Courses that will keep the harshest hecklers both too dazzled by their surroundings and challenged by their own game to worry about yours. Add in their proximity to all sorts of entertainment, and we can guarantee a good time for all, almost completely heckle-free. (Of course, there's always one clown who won't be silenced, and for that, we're afraid, we got nothing.)
Highland Pacific Golf Course: best warm-up
Billed as "Victoria's friendliest golf course," Highland Pacific is a quick 15-minute drive from downtown, making it perfect for day one after a night on the town. Or, make your round the night-time attraction: new this season are Highland Pacific's Golf Social Nights. Everything Wine Ladies' Night happens every Monday night from 5:30pm until 21 September, and Campus Auto Group Men's Night happens every Wednesday night from 5:30pm until 23 September. Both feature nine holes of play on this championship course, with competitions for longest drive and closest to the pin, followed by dinner and a massive prize table.
Either way, Highland Pacific is also arguably the best possible course to warm up for your golfing trip. Their driving range alone is worth the entire trip: there's nothing quite like driving out over a lake to get the golf senses singing. Highland Pacific also has six different sets of tee markers, making it a great place to play with friends of all skill levels.
An added bonus is its proximity to downtown Victoria with its pulsing entertainment scene and nightlife. Home to year-round live theatre, opera, dance, concerts, festivals and films, Victoria is also jam-packed with a variety of Old English-style pubs, micro brew pubs, restaurants, bars and clubs. And, did you know that Victoria is the scene of a thriving craft cocktail scene with many talented mixologists making their living here? In fact, the classic cocktail lounge at the Chateau Victoria Hotel & Suites has been awarded "Top 10 – World's Best Hotel Bar" by Tales of the Cocktail. Suffice to say, there is never a dull night in Victoria!
Talking the walk… "Fun course! The wife and I enjoyed this course. The views were outstanding. The course had a ton of character to it. Thoroughly enjoyed it. Beer available was local craft beer! Would play here again!" (TripAdvisor)
Olympic View Golf Club: best history (and burgers)
An incredible course celebrating 25 years this year, Olympic View can also boast of being the host with the most: it is the first course Tiger Woods played in BC, and the only course on Vancouver Island. Challenge your buddies to do better than Tiger on Hole 16. A par 3 that measures only 110 yards, don't be lulled into false sense of security… with sand traps at the front and back, and a large gully to the right of the green, this hole shows no mercy. Just ask Tiger: the legend himself bogeyed it two days in a row, and that was well before he lost his game!
If Hole 16 gets the best of you and your buddies, let the spectacular views soothe your soul as you hit towards a beautiful waterfall at the end of Hole 17, then head over to Forester's Bistro & Bar at the clubhouse for what is considered by many to be the most legendary burger on the Island.
Talking the walk… "Breathtaking! I will always return to this place. Breathtaking golf course, breathtaking view, very friendly people and the food was just fantastic. Great experience." (Tripadvisor)
Bear Mountain Golf Resort & Spa: best bragging rights
Are you and your buds brave enough to battle the Bear? As one golfer put it, "She's a beast!" Regardless of your degrees of courage, handicap, or tolerance levels for good natured ribbing about losing balls, you just have to play the place where the Golden Bear hangs his name. The Westin Bear Mountain Golf Resort & Spa, Vancouver Island's only 36-hole course, is that golf course… the one where you don't remove the tag from your bag for months, no years, after playing it. Co-Designed by Jack Nicklaus and his son Steve, you can play two incredible courses, offering challenging golf, unrivalled scenery, and a luxury stay at the end of play.
To really give yourself some bragging rights with your buddies, plan a stay and play for the weekend. That way your group can enjoy Bear Mountain's Friday Night Flights: themed wine (and sometimes vodka) tastings to rejuvenate the weariest of Bear-warriors. Take all the credit and run with it…
Talking the walk… "Beautiful! With some of the nicest views I have ever seen overlooking all of Victoria and the surrounding areas. The golf course is always in peak shape and is a very unique design by Jack Nicklaus himself." (TripAdvisor)
Arbutus Ridge Golf Course: best value
Wrap up your trip with a chilled round in the morning followed by a wine tour in the afternoon, by taking advantage of the Arbutus Ridge Golf and Wine package. Great golfing, great wine, great value.
Arbutus Ridge Golf Course is located slap bang in the middle of nine of Vancouver Island's best wineries. It's not all about the wine though: this course boasts three of the most demanding finishing golf holes on Vancouver Island, punctuated by the knee-rattling 214-yard par 3 island green on the 17th hole. (Hmmm, come to think of it, perhaps the wine helps…) Whatever your reason for playing here, you won't regret it, and, if you take advantage of the golf school, clinic, or private lesson at the GBC Golf Academy, you'll even come away a much better golfer. (Another area the wine comes in handy – to toast to your improvement!)
Talking the walk… "Great golf, super pros, scenery and food. The golf course is challenging, interesting and has lots of friendly members. Views are superlative, not only on the course but in the clubhouse as well. Be prepared to lose a few balls both in the rough and the water. Food in the clubhouse is of good quality with sufficient choices for my vegetarian appetite as well as for my carnivore hubby." (TripAdvisor)
Best bonus round
While golf is paramount to a buddies' golfing trip (duh), there is so much to do in and around Victoria that you deserve any heckling that comes your way if you don't take advantage of it.
Why not pair your golf with the Victoria Ale Trail experience, a self-guided tour of Victoria's many microbreweries.
Or, for the ultimate bragging rights with your buddies, pair your golf score with your weigh in and make it a fins and skins experience – salmon fishing in the morning and golf in the afternoon… an experience completely unique to Victoria and Vancouver Island.
Finally, just because you can, why not add one more day to your play: stay waterfront and add a morning round at the traditional Cowichan Golf & Country Club before heading back to the real world.
Talking the walk… "I've spent most of my life golfing – the rest, I've just wasted." Anonymous
PS. Need help pulling your buddies golfing trip together completely hassle free? Check out Golf Vancouver Island's Victoria Buddies Weekend – yep, they've done it all for you, and all at a great price. You're welcome.