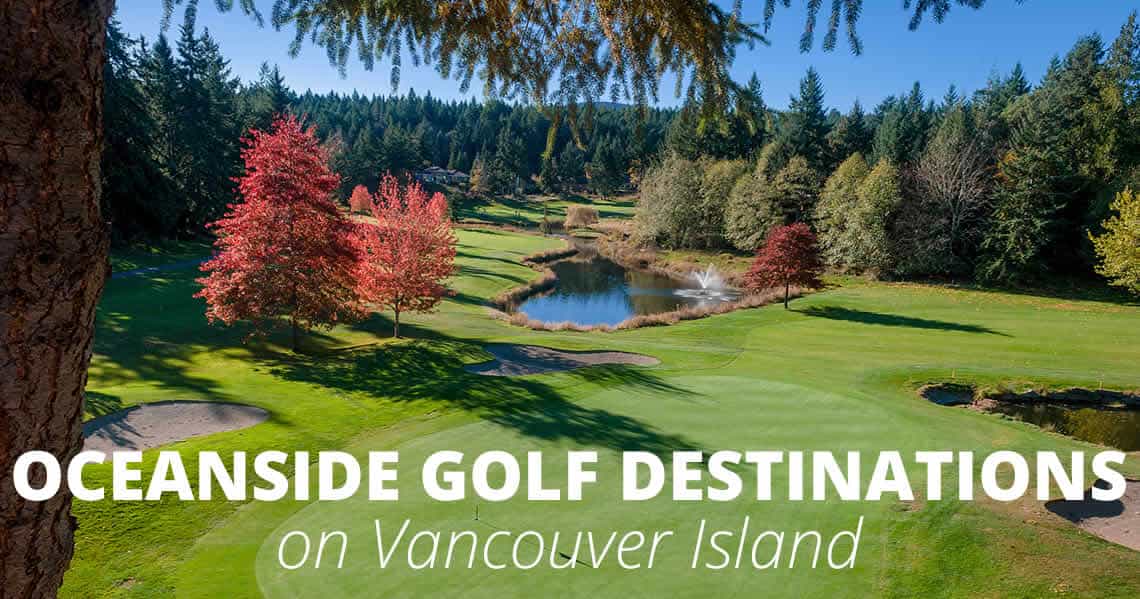 Playing golf oceanside may come with its share of non-recognized hazards: ocean breezes and cool mists. But this pales into complete insignificance when you consider the pros of golf courses with ocean views (or near enough): those views obviously, seafood bonanzas, plenty of salty-aired adventure and all-season golf. That's right: those capricious elements which can soak you to the bone and send you driving into the breakers, also mean most of the courses on the island are playable year-round. No snowy-season closures and months of no-play (barring a freak snow storm of course). And as we all know, all work and no-play makes Jack a very dull boy… and a very rusty golfer!
So, as Fall approaches, with winter nipping at its heels and courses across the country getting ready for their cold-weather closures, pack up your clubs and head for Vancouver Island and the Vancouver Island Golf Trail – where the golf is never ending – and where these oceanside golfing destinations are ready and waiting for you.
Beach Bums
While everyone normally associates beaches with summer, a brisk beach walk on a crisp morning invigorates the soul and, we swear, improves the swing for the tee-off that follows. There's no better place to prove our theory than Parksville and Qualicum Beach, home to miles of both pristine sands and gorgeous green fairways.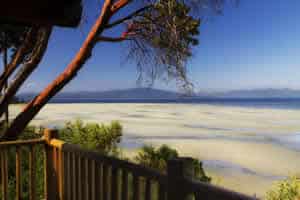 Where to stay… Check in at Tigh-Na-Mara Seaside Spa Resort & Conference Centre. Located on Rathtrevor Beach in Parksville, with sweeping panoramic views of the Strait of Georgia and coastal mountains, this all-season haven promises Canada's mildest year-round climate as well as the country's warmest ocean swimming waters!
Where to play… Take an early morning walk on the famous Parksville Beach, right outside your Tigh-Na-Mara room. Then head out to tee off at Fairwinds Golf Club. Just 10 minutes from Parksville, this spectacular Les Furber designed course showcases natural water, dense forest, ocean views, and dramatic elevation changes. Voted the "#1 Golf Course on Vancouver Island" in the 2013 BC's Best – People's Choice Awards by BCLiving.ca, Fairwinds offers an oceanside golfing experience second to none. Sitting on the Nanoose peninsula, separating the Salish Sea to the south and the Strait of Georgia to the north and east, you will be hitting closer to the splendour of the ocean than any other golf community on Vancouver Island. Hopefully not too close though! Take a break for lunch at the Benz Lounge, Patio & Bistro overlooking the ninth green, then hit up Pheasant Glen Golf Resort for an afternoon round. Undisturbed by homes and highways, this secluded course in Qualicum delivers a round of golf guaranteed to challenge, but in a setting guaranteed to soothe.
Apres golf… After all that beach walking and golfing, you're going to want to take advantage of the soothing treatments at the Grotto Spa at Tigh-Na-Mara, named the #1 Spa in British Columbia by Spas of America. It's the perfect place to ease aching muscles. Make a weekend of it, and stay for the 2015 Party on the Drive event, Vancouver Island's biggest street party.
The Great North
All the greatest explorers always end up heading North at some point in their travels. They might just be onto something there, especially when you look at the adventures – golfing and otherwise – to be had on the North Island.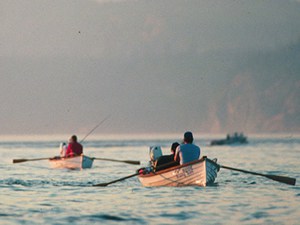 Where to stay… Treat yourself to a retreat from real life at Painter's Lodge in Campbell River, situated on the shores of the Discovery Passage. It's called Discovery Passage for a reason: from Painter's Lodge you can experience world-renowned salmon fishing, a guided fishing trip, a tour of the wildlife, a whale-watching expedition, canoeing, and adrenaline-inducing golf. Just pick your adventure.
Where to play… Head out for a spot of adventure golfing at Storey Creek Golf Club in Campbell River, where eagles soar, wild deer frolic, and even the occasional black bear may make a guest appearance as part of your four-ball… (Like we said, adventure golfing!) This Les Furber designed course has been carved out of old and second-growth forest, giving you a championship golf course that has to be played to be believed. (Read: expect to use every club in your bag.) For a real golfing adventure, head to Quadra Island Golf Course, located a scenic 10 minute ferry ride from Campbell River on Quadra Island. A beautiful 9 hole golf course, it is perfect for those who like to combine a little fishing with their oceanside golf getaway. For a tremendous Fins and Skins experience, stay at April Point Resort & Spa on the island, tee off in the morning at Quadra Island Golf Course, then cast off in the afternoon for a spot of their world-famous salmon fishing. For a really good deal, check out this April Point Golf & Fishing Get-Away-From-It-All deal.
(Note: Quadra Island, April Point and Painter's Lodge are seasonal – book now before winter closures kick in. April Point, September 20; Quadra Island/Painter's Lodge, October 12).
Apres golf… All that adventure can really make a golfer hungry! Both Painter's Lodge and April Point offer amazing culinary adventures post-play, with restaurants that give 'oceanside' whole new meaning. You can even ask the chef to grill the salmon you caught yourself on your earlier outing – talk about 'catch of the day', eh!
Wine And (ocean)Water
Head for the Cowichan Valley where, if the golf gets the better of you, there's at least plenty of wine to make up for it! A scenic 45 minute drive north of Victoria or a 30-minute drive south from Nanaimo, the Cowichan Valley boasts numerous wineries, a couple of world-class golf courses, a seaside village straight out of the good ol' days when community meant everything, and, seeing as how we're talking oceanside bonuses, fresh crab straight from the dock to your plate.
Where to stay… It doesn't get more oceanside than the Oceanfront Suites at Cowichan Bay. A boutique style hotel with 56 oceanview suites, if you want to be any closer to the sea you'll have to rent a houseboat. With its Oceanview Restaurant, a waterfront indoor heated pool, whirlpool, saunas, and amazing Oceanside patio you can be forgiven if you choose to forego golf.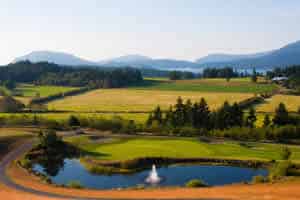 Where to play… If you can drag yourself out, head to Cowichan Golf & Country Club, just outside of Duncan, where you may be distracted from your game by the views overlooking mountains and the waters of Cowichan Bay. Try stay focused for the eleventh hole at least though, probably the toughest par four on the entire Island. Off the drive, you will have to clear a ravine, stay away from the out-of-bounds zone that runs along the left side of the fairway, and stay away from the big trees that dot the right edge of the hole. The approach is even more complicated, with the elevated green protected by a wide gully and water on the front and left sides. Oceanside or not, this is one hole you'll want to forget the crab meal that awaits you and think about nothing but golf. Also in the heart of the Cowichan wine region, you'll find Arbutus Ridge Golf Club. Directly surrounded by nine wineries, this course offers some of the most stunning views on Vancouver Island with the front nine weaving alongside the seaside community of Cobble Hill and the back nine climbing a ridge to overlook the Satellite Channel.
Apres golf… Seeing as how you're in the area you may as well take advantage of all the valley has to offer. The second largest wine region in BC, the Cowichan Valley is home to nearly 20 wineries. Take a self-guided tour or join a guided group. (If you're feeling really adventurous you can even do a bike tour.) Whatever you do though, make sure you end up at one of the local waterfront restaurants where you can take advantage of everything Vancouver Island's oceanside golf destinations have to offer: fresh local seafood paired with fantastic local wines. (Golf totally optional.)
Head Downtown
It's hard to argue with Conde Nast Traveler Magazine when they consistently name Victoria as one of the top destinations in the Americas. It has everything. A thriving microbrewery scene, wineries a stone's throw away, great shopping, excellent entertainment and, of course, golf aplenty. All oceanside.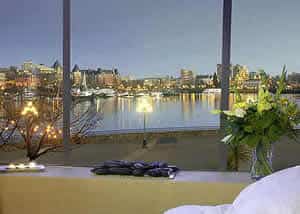 Where to stay… What a dilemma: so many fantastic oceanside hotels to stay at, only one of you. Staying in a hotel on Victoria's iconic Inner Harbour has to take the cake as one of the best oceanside experiences you'll ever have. The Hotel Grand Pacific is, well, just grand. And a really great option just two blocks from Victoria's downtown restaurant and shopping district, and five blocks from Fisherman's Wharf. Also located on Victoria's Inner Harbour is the newly renovated Delta Victoria Ocean Pointe Resort & Spa, where you will be hard pressed to be lured away from the luxury, especially the waterfront LURE Restaurant & Bar. Or check in harbourside at the Inn at Laurel Point for a park-like setting and suites with private decks. You'll find it hard to believe you're anywhere near the hustle and bustle of inner city staying here, yet are just steps away from all downtown Victoria has to offer.
Where to play… You don't have to venture far from town to get your golf on. No more than 20 minutes out of Victoria, you'll find Highland Pacific Golf Course, with its panoramic views of the city, the Olympic Mountains, and the Strait of Juan de Fuca. Highland Pacific prepares you for your best game ever offering an award-winning practice facility: a two-tiered tee line of 44 covered and heated stalls, CPGA golf instruction, long and short game natural turf practice areas, lights for evening practice, and real terrain targets, including a water hazard. There's no excuse for a bad round here, oceanside distractions or no!  For those of you planning more than one round during your visit, Olympic View Golf Club and the two Nicklaus designed courses of Bear Mountain (The Mountain and The Valley) await only minutes down the road.
Apres golf… Did you know that beer in Victoria has its roots in the early 1840s? There are currently six breweries, and five brewpubs in the immediate vicinity of this relatively small city, making Victoria undeniably BC's craft beer capital. And what better to do after a spot of oceanside golfing than a pint (or two) of oceanside brew-appreciation? Take yourself on a self-guided tour of Victoria's Ale Trail or an on-the-water brew tour on the "Pickle Pub Crawl", before heading back to your hotel or restaurant of choice for a meal featuring the best that the local waters have to offer. From Sea to Table, there is no better place to be than Victoria for the Catch of the Day.
Which is your favourite Vancouver Island golf course to play in the cooler months? We'd love to hear from you!