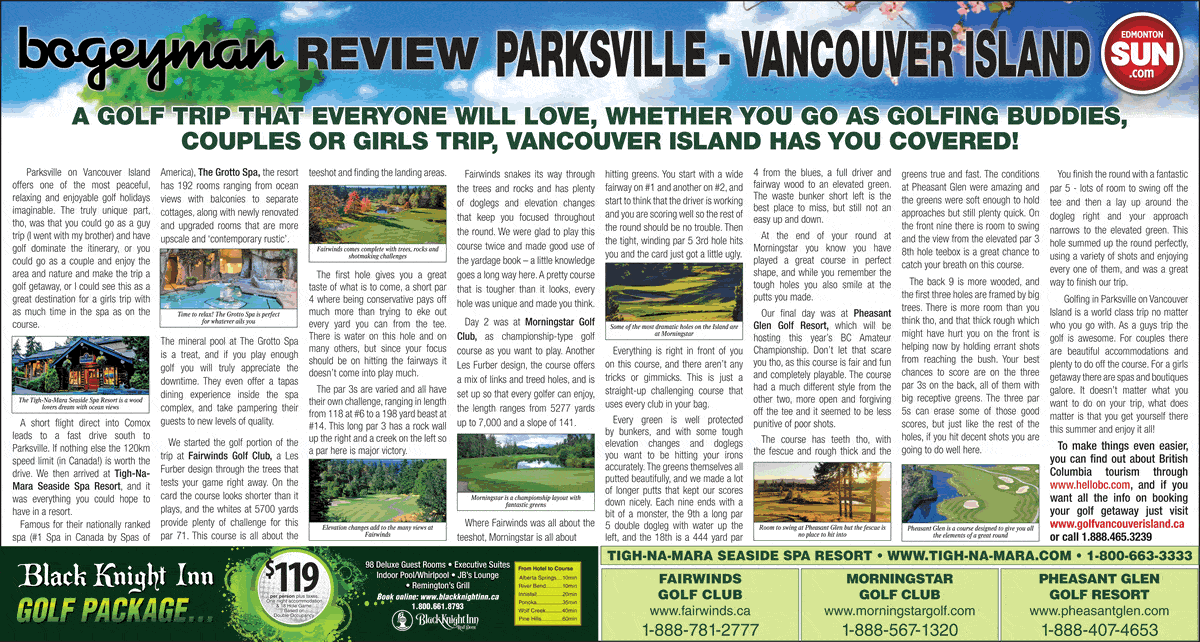 Edmonton Sun's resident golf fanatic Kevin Berkenbosch – aka Bogeyman – recently visited Parksville for a whistle stop Vancouver Island golf trip. What he found was a golfing experience second to none. As he puts it: "Parksville on Vancouver Island offers one of the most peaceful, relaxing and enjoyable golf holidays imaginable." Which sounds pretty good to us!
Bogeyman managed to play rounds at Fairwinds Golf Club, Morningstar Golf Club, and Pheasant Golf Resort, giving him three completely unique rounds of golf but all with one common factor: a few hours very pleasurably spent indeed! As he reports, "Where Fairwinds was all about the teeshot, Morningstar is all about hitting greens… (while) Pheasant Glen, which will host this year's BC Amateur Championship, has a much different style from the other two, (being) more open and forgiving off the tee and less punitive of poor shots." He also reports that "conditions were amazing" and finally, "Golfing in Parksville on Vancouver Island is a world class trip no matter who you go with." Now, who could ask for more than that?
A huge thanks to Bogeyman for his great review – we look forward to seeing more of him on the Vancouver Island Golf Trail!