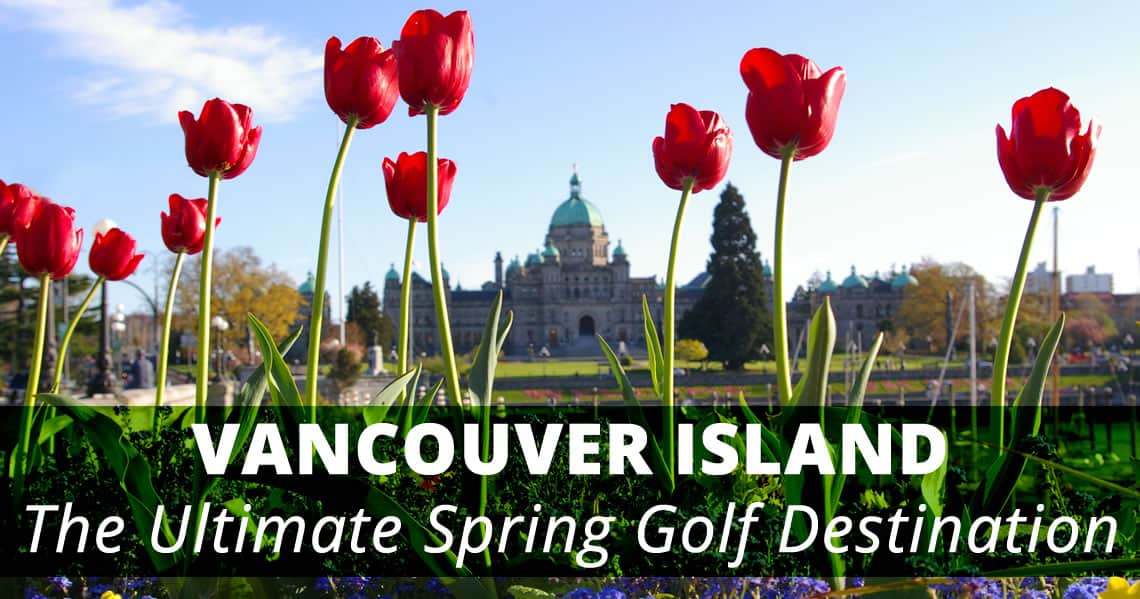 January. Bleurgh.
Never fear; Spring is near. Well, on Vancouver Island anyway. Did you know that the average temperature on the Island come February hovers around 9°C? Even better, in March it's more like 12°C! (Most days.) Head east to Alberta and Ontario, and you're looking at around 5. (Maybe. On a really, really good day.) As for the Prairies… Well, the less said the better.
Of course, with all this bounty of beautiful, snow-free weather comes something else to smile about: Spring golf.
As one of the very few destinations in Canada where golf courses are actually open, golfing on Vancouver Island offers the pent up, mid-winter golfer everything he or she could wish for. Lush green fairways. Barely a blade of winter kill to be found. Sunny skies. Temperatures that often allow for short sleeves. And, given that nearly all the golf courses on Vancouver Island are year-round, the quality of golf you're going to get is pretty much unrivalled: you're looking at near-summer playing conditions as early as March! Plus, if you're a Canadian looking to cure golf fever somewhere tropical, you're not going to run into the hazard that is the current US exchange rate. Why make everything 40% more expensive by venturing across the border when you've got the perfect lie right here at home? (Hey, US golfers: everything here is 40% cheaper. Just saying.)
So here's a thought: skip the January blahs and start dreaming about your Spring golfing trip to Vancouver Island instead. You don't even have to plan a thing, we've done it all for you:
Woods and whales
Play golf: Head for Parksville and Qualicum Beach if it's an oceanside Spring escape you're after. Here you'll find three wonderful oceanside golf courses in Fairwinds Golf Club, Morningstar Golf Club and Pheasant Glen Golf Resort. We've even set up a really great Parksville Spring Beach & Golf Special for you – three Rounds of Golf (one at each of the above courses) & two Nights Stay for just $399 pp. All you have to do is show up!
Play tourist: Just two and a half hours northwest of Parksville lies Tofino where, come spring, whale watching is the sport of choice. Don't miss out on this opportunity to see grey whales at play. Bonus round: the Pacific Rim Whale Festival runs from March 12-27th, 2016.
Fairways and flowers
Play tourist: While most of Canada is still shivering under a blanket of snow, Vancouver Island is already awash with blossoms – Greater Victoria boasts an annual bloom count of over a billion! (Did you know the Greater Victoria Flower Count is an actual thing – it takes place in March…) So get out and smell the cherry blossoms…
Play golf: While you're at it, why not take in a round or five at the four fantastic golf courses no more than half an hour's drive from the city centre. Highland Pacific, Bear Mountain, Arbutus Ridge and Olympic View all boast challenging, invigorating golf guaranteed to get you back into the swing of things. Take advantage of our low season Golf Fever Getaway steal if you can't decide which course to play. We won't tell anyone if you give the whole flower counting thing a skip.
Balls and bikes (and birdies, hopefully!)
Play golf: One venue, two spectacular courses… Bear Mountain Resort offers 36 holes of Jack Nicklaus designed golf. (It is the only 36 holes of Nicklaus Design golf in Canada by the way.) It has also just been named as the official national training centre and headquarters of Cycling Canada and Golf Canada. Aside from national pride what does this mean for the rest of us comparably plebeian golfers? Erm, if it's good enough for our national squad to train there year round, it's more than good enough for us. Expect prime Spring golfing conditions. And Summer, Winter and Autumn.
Play tourist: Play golf at Canada's National Golf Training Centre. 'Nuff said. But if you insist on more: why not rent a mountain bike and kick up some dust at The Hub – home of the Canadian National Mountain Bike Team, the Bear Mountain Bike Park (BMBP) and the Southern Vancouver Island Nature Trails Society (NTS).
Scorecards and skis
Play tourist: Spring skiing at Mount Washington on Vancouver Island is one of those things people add to their bucket lists, with March apparently their best month of the year. But the very best part? It's just a 40-minute drive from two of the Island's most-loved golf destinations: Crown Isle and Storey Creek.
Play golf: With Crown Isle Golf Resort tucked under the shadows of the massive Comox Glacier, and your Storey Creek four ball often joined by soaring eagles, wandering wild deer and ambling black bears, this is golf in perfect commune with nature. What better season to take advantage of that? (Speaking of taking advantage: Crown Isle is currently offering a Stay & Ski deal, valid until the end of January.)
Yep, Vancouver Island really is the perfect place to cure golf fever. With the added bonus of plenty to do off the tee. It's time to flip winter the birdie and hit the fairways on Vancouver Island. You know you want to.
Main image credit: Deanne Gillespie