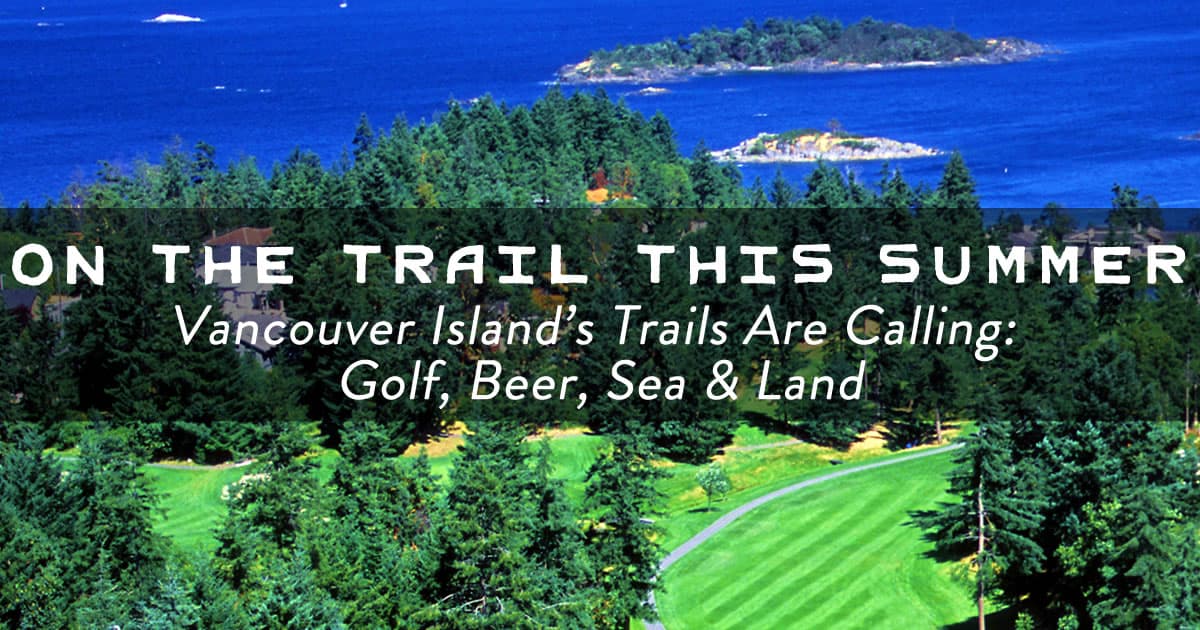 Summertime, and the living is easy… Especially on Vancouver Island. The temperatures are warm but mild, the golf courses are in peak condition, the views are crystal clear, and the good times to be had – on and off the golf course – well, they are plentiful. As you will discover when you hear our tale of the many Vancouver Island trails.
Say 'trails' and most people immediately think hiking trails. There are those to be had of course – by the beautiful dozens – on Vancouver Island. But the Vancouver Island network of trails is not limited to those of the hiking boots and backpack variety. Say 'trails' to us, and our minds meander down a couple of many splendored, slightly different, paths. Beer and golf may be involved.
The Golf Trail
250 kilometres. 13 golf courses. Days and days worth of Championship golf paired with ocean views, old growth forest, luxury spas and plenty of Summer patio lounging opportunity between rounds. The Vancouver Island Golf Trail takes you from Victoria to Campbell River, stopping in at Cobble Hill, Duncan, Nanaimo, Nanoose Bay, Parksville, Qualicum Beach, Courtenay and Quadra Island on the way. As Calgary based journalist Andrew Penner once wrote, it is all about "great golf – sometimes astonishingly good – on one of the world's most sought after islands. With all that this Pacific paradise has to offer, the Vancouver Island Golf Trail will surely be considered one of the best golf adventures to be found anywhere."
The Ale Trail
Did you know that the Victoria Ale Trail, is home to Canada's very first brewpub and is thus considered the cradle of the craft beer revolution? Did you know, according to the good, beer-loving folk at The BC Ale Trail, that "more than 100 breweries dot the super, natural landscape of BC"? Finally, did you know that "BC Brewers win about one-third of all annual Canadian Brewing Awards despite the province having less than 20% of the country's breweries and less than 15% of the national population"? Which will come as no surprise when you taste the goods on the Vancouver Island portions of The BC Ale Trails, with the Victoria Ale Trail leading the charge, followed closely by the Nanaimo & Comox Valley Circle Route and, coming soon, the Island's Beer Belt – Cowichan, Nanaimo & Parksville-Qualicum Beach. The only thing better than hitting the self-guided BC Ale Trail (complete with designated driver of course)? Taking a guided West Coast Brewery Tour. Either way, it's all good. Beery, beery good.
The Marine Trail
If you're looking to experience Vancouver Island in all her wild and incredible loveliness, look no further than the BC Marine Trails – a network of marine trails for paddlers and other small, beachable watercraft to explore virtually the entire, undeveloped, 'wilderness' length of the BC coast. After your round in Nanaimo, for example, you could hop in a kayak and head out to Newcastle Island Park for a night of wildly beautiful R&R or take the water taxi for an afternoon of enjoyment on an Island off an Island. For après golf of a rather diffferent kind, explore the waters around Victoria in a kayak – rentals are plentiful from the Inner Harbour. The opportunities to explore Vancouver Island by watery trail are endless and BC Marine Trails has made it even easier by giving you three ways to find out where your next trail will take you: by map; by places to paddle; and by marine trail. Happy voyaging. And may all waters lead you back to the golf trail.
The Hiking Trail
Finally, golfers really do enjoy a good walk (we say bah, humbug to that old chestnut 'Golf is a good walk spoiled'), and Vancouver Island is the perfect place to take walking to the next level. The world-renowned trails found here offer quite incomparable opportunities to stride out, at one with nature. Hike over rugged hill and dale, through old growth forest, and along windswept cliffs and remote coastline terrain, or take a stroll through forests thick with ferns and wildflowers. From the famed West Coast Trail with challenges enough for the most experienced hiker, to the Juan de Fuca Marine Trail with its sweeping ocean views, to gentle walks in the lush parks of Goldstream near Victoria, or the majestic Old Growth stand of Cathedral Grove located between Parksville and Port Alberni, Vancouver Island hikes are guaranteed to take your breath away.
Whichever of these Vancouver Island trails takes your fancy this, we leave you with this final thought: "The trail is the thing, not the end of the trail. Travel too fast and you miss all that you are traveling for." Louis L'Amour.